ericnouveau
Administrateur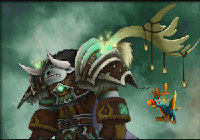 Hors ligne



Inscrit le: 15 Aoû 2009
Messages: 25 246


Localisation: toulouse

grade dans la guilde: mg

Point(s): 61 969
Moyenne de points: 2,45
Posté le: 21.10.12 23:31

 

   Sujet du message: Archéologie à Mists of Pandaria

---

Archéologie à Mists of Pandaria
2

MoP : Archeology, artefact, craft, profession

Dimanche 21 octobre 2012 Un correctif en jeu récent a modifié la façon dont se monte l'archéologie à Mists of Pandaria. Auparavant récolter des fragments ne faisait pas gagner de points de compétence, et seule la reconstitution d'artefacts permettait d'en obtenir. Cela a été corrigé, à présent vous gagnez un point pour chaque série de fragments que vous extrayez du sol. Il ne devrait donc pas vous falloir plus d'une heure pour monter ce métier secondaire une fois en possession de la compétence de vol en Pandarie.






---

Jeudi 5 juillet 2012 Comme l'avaient promis les développeurs, Mists of Pandaria devrait simplifier la vie aux fanatiques d'archéologie. Quelques améliorations simples, mais efficaces, devraient soulager les complétionistes en tout genre, ou ceux qui cherchent depuis des mois un objet particulier.
En vous rendant dans le Val de l'éternel Printemps, vous apprendrez vite à trouver le siège de la connaissance, le repaire de la faction des Chroniqueurs au sommet du palais de Mogu'shan. Dans cette vaste salle, hormis des Pandarens épris de vieux bouquins poussérieux et de parchemins sentant le moisi, vous rencontrerez une vieille connaissance : Brann Barbe-de-Bronze.
Il semble que pour une fois le Nain ne soit pas impliqué dans une catastrophe archéologique en touchant à tout et n'importe quoi dans des complexes titans (on lui aura sûrement refusé un certain rôle dans Prometheus, qui semblait bien lui correspondre pourtant). Cette fois-ci il ne sera qu'un modeste PNJ vendeur d'artefacts archéologiques.

Dans Mists of Pandaria, vous pourrez récolter deux types de fragments : les fragments mogu et les fragments pandarens, qui seront combinables pour obtenir des artefacts divers. Ces nouveaux artefacts disposent d'un effet cliquer pour utiliser, qui permettra de créer un Artefact réparé. Chacun de ces puzzles archéologiques résolus pourra être vendu ou utilisé comme une nouvelle monnaie.
Avec ces Artefacts réparés, vous pourrez acheter divers objets auprès de Brann, qui devraient vous faciliter la vie en archéologie :


Carte de chroniqueur :

Vous permet de réinitialiser vos sites de fouille actifs en Pandarie, si ceux qui sont alors affichés sur votre carte ne vous conviennent pas (30 minutes de recharge). Coûte 5 Artefacts réparés.


Magnétite de chroniqueur :

Vous téléporte jusqu'à un site de fouille actif en Pandarie (30 minutes de recharge). Coûte 5 Artefacts réparés.


Caisse de fragments :

Contient des fragments orques, trolls, elfes de la nuit, nain, fossiles, draeneï, nérubien, vrykul ou tol'vir selon la caisse que vous voulez acheter. Coûte 1 Artefact réparé.



Vous pourrez donc récolter des artefacts des autres zones archéologiques sans avoir à quitter la Pandarie. Petite précision, vous ne pourrez ouvrir les caisses contenant les fragments des autres races qu'une fois un niveau de 600 atteint en archéologie. Ces modifications ne sont donc pas faites pour monter votre archéologie plus facilement, mais pour faciliter la vie à ceux qui cherchent un objet en particulier.
Tout ceci devrait donc être apprécié par les chasseurs aux trésors qui écument en vain les chantiers archéologiques depuis un moment.



Sam Vostok




---

Dimanche 10 juin 2012 L'archéologie n'a pas été oubliée à Mists of Pandaria, et même si pour ce qu'on peut en juger pour le moment il n'y a pas eu de grosses nouveautés. Dans tous les cas le métier a au moins eu droit à quelques changements pour le rendre moins pénible.



De nombreux éléments manquent encore au métier, y compris les archéologues du siège de la connaissance qui sont censés nous apporter plus d'informations sur les reliques que nous avons découvertes. Pour le moment je me concentrerais donc sur la récolte des précieux fragments archéologiques.


Vous disposez de quatre sites de fouille archéologique en permanence en Pandarie, les zones dans lesquelles ils sont situés dépendent de votre niveau. Par exemple au niveau 85 vous n'en aurez que dans la zone de départ sur le nouveau continent : la forêt de Jade.
Ces zones de fouilles semblent être généralement bien plus accessibles, elles se trouvent à proximité des maîtres de vol et des routes. Rappelons que nous ne disposons pas du vol avant le niveau 90, donc monter ce métier avant aurait relevé de la torture sans ce léger réglage.


Autre bon point, toutes les zones de fouilles sont de taille plus réduite, et relativement circulaire (patatoïdes si vous préférez). Chaque zone de fouille peut tenir sur votre mini-carte, de plus ses limites apparaissent enfin sur ladite mini-carte. Vous n'aurez donc plus à cliquer vainement sur votre bouton d'excavation en boucle pour ne recevoir qu'un message d'erreur.
La rentabilité des sites de fouilles a été très fortement augmentée elle aussi, vous récoltez à présent entre 5 et 9 fragments à chaque fois, et chaque site peut être excavé 6 fois au lieu de 3.


Histoire de casser un peu la monotonie, de temps à autre vous ferez apparaître un Sha, un monstre de votre niveau qui vous attaquera immédiatement. En le tuant, vous pourrez ramasser des fragments Mogus additionnels sur son cadavre.
Nous avons droit à deux nouvelles races pour les reliques, les Pandarens et les Mogus, elles ne sont présentes qu'en Pandarie, par contre ce sont les seules présentes. Il n'y aura pas d'infâmes fossiles pour venir gâcher votre récolte cette fois.





---

Vendredi 18 mai 2012 Le dernier build du client bêta a apporté de nouvelles informations, notamment sur l'Archéologie. Pas d'info concrète mais une liste de hauts faits liés au métier, qui est relativement longue :



---

Jeudi 3 mai 2012

Wowhead a publié une mise

à jour concernant les composants d'archéologie trouvables.


"Pristine" versions of previously-datamined artifacts were added :


Pristine Chang Ki Board and Pieces
Pristine Mogu Coin
Pristine Pandaren Tea Set
Test Project



---

Jeudi 12 avril 2012

Voici les différents éléments ajoutés sur la bêta de Mists of Pandaria lors des dernières mises à jour concernant l'archéologie.


Vous ne trouverez pas grande nouveauté cette fois parmi la liste des nouveautés extraites par MMO Champion. La principale chose intéressante est la liste des sites de fouilles, qui n'est peut-être pas encore complète :



Citation:
MMO Champion sur

Archéologie

(Source)




Fragments


- Pandaren - Pandaren Oracle Bone
- Mogu - Mogu Statue Piece

Sites de fouilles

- Tiger's Wood Digsite
- Chun Tian Digsite
- Shrine of the Dawn Digsite
- Ruins of Gan Shi Digsite
- Emperor's Omen Digsite
- The Arboretum Digsite
- Thunderwood Digsite
- Singing Marshes Digsite
- North Great Wall Digsite
- South Great Wall Digsite
- Torjari Pit Digsite
- Hidden Pass Digsite
- Paoquan Hollow Digsite
- North Fruited Fields Digsite
- South Fruited Fields Digsite
- Pools of Purity Digsite
- Fallsong Village Digsite
- Ruins of Korja Digsite
- Krasarang Wilds Digsite
- Lost Dynasty Digsite
- East Ruins of Dojan Digsite
- West Ruins of Dojan Digsite
- North Temple of the Red Crane Digsite
- Zhu Province Digsite
- Valley of Kings Digsite
- Gate to Golden Valley Digsite
- Snow Covered Hills Digsite
- East Snow Covered Hills Digsite
- Remote Village Digsite
- Destroyed Village Digsite
- Old Village Digsite
- Grumblepaw Ranch Digsite
- Chow Farmstead Digsite
- West Old Village Digsite
- Small Gate Digsite
- Kun-Lai Peak Digsite
- Town Digsite
- Gong of Hope Digsite
- Great Bridge Digsite
- Orchard Digsite
- Jade Temple Grounds Digsite
- South Orchard Digsite
- Den of Sorrow Digsite
- Shrine Meadow Digsite
- Veridian Grove Digsite



---

Lundi 26 mars 2012 De nouveaux artefacts découverts en Pandarie ont été dataminés par MMO Champion. Même si comme à chaque fois ils sont riches en lore avec un descriptif conséquent, pour le moment leur valeur réelle, et leurs pouvoirs spéciaux ne sont pas encore intégrés. De plus il semble évident que les objets d'équipement (habituellement épiques) ne sont pas encore listés non plus.



Citation:
MMO Champion sur

Nouveaux artefacts de l'archéologie

(Source)




Pandaren Tea Set

- The Pandaren have a rich history of tea. While much care is given to its brewing, the secrets to properly enjoying tea have always been equally valued. This simple tea set was made during the reign of the Mogu, and provided solace and respite to the owner during a time of great pain and tyranny. Although it is cracked and broken, it serves as a reminder to take comfort in the simple pleasures of life.



Chang Ki Board and Pieces

- Pandaren love games. Chang Ki in particular has been a favorite among the Pandaren since the time of the first Pandaren emperor. Unfortunately, many of the pieces in this ancient set have been lost.



Twin Steins of Brewfather Quan Tou Kuo

- "A matching set of drinking steins, made of ebony and jade. Brewfather Quan Tou Kuo, "The Two-Fisted", sought to mitigate the side effects of strong drink by creating the perfect duality of brews. When imbibed together in the proper ratios, the Pale Ale of Spirit and the Dark Stout of the Mind combine in the drinker's stomach to achieve a state of enlightenment and goodwill without the loss of judgment and self-control so often experienced by less refined brews. Sadly, the Brewfather's secrets have been lost to time, but these lovingly crafted steins serve as a permanent reminder of his expertise.



Walking Cane of Brewfather Ren Yun

- "A long cane tipped with a head of carved whalebone, once used by the enigmatic Brewfather, Ren Yun. Blind since birth, Ren Yun's other senses were heightened. As a result, he found the brews of his time to be harsh or bitter. Years of experimentation allowed him to perfect four perfect brews that appealed to each of his other senses. And yet, the "one brew" that would appeal to all four senses at the same time eluded him. It was only at the end of his long life that he perfected the one master recipe, "The Four Senses Brew", that was the most magnificent discovery of his generation. Sadly the recipe was lost to time, because Ren Yun's handwriting was pretty much illegible.



Empty Keg of Brewfather Xin Wo Yin

- The heart-shaped spigot to this cask reveals it to be an artifact of the late great Brewfather Xin Wo Yin, "The Brokenhearted". Generations ago this renowned Brewfather created "Heartswell Brew", a concoction that infuses the drinker's entire being with a profound sense of warmth and wellbeing. It was said that Xin Wo Yin so loved the product of his art that he wept tears of heavy sorrow over every keg that left his brewery. It's likely that he wept over this very keg. Being that it's empty, you feel a little morose yourself.



Carved Bronze Mirror

- While the glass itself is long gone, the reverse of this mirror is an elaborately carved bronze disc depicting the Red Crane of Hope. An inscription reads, "To my dearest Lin / My beauty, my dove / This picture of perfection / Your reflection / My love - Yao"



Gold-Inlaid Porcelain Funerary Figurine

- "Commissioned at the time of the death of a loved one, figurines such as this one help the grieved overcome their loss. This statuette depicts a beautiful young Pandaren Lorewalker named Lin. The inscription indicates the she succumbed to a terrible fever that swept through the Valley of Four Winds during the short reign of the Hozen Emperor Rikktik.



Apothecary Tins of Yao Firmpaw

- A complete set of brass apothecary jars, with neatly engraved labels, meant for the storage of a complicated array of powerful medicinal herbs. Although the exact use of most of the herbs remains a mystery, a plaque on the box containing the tins identifies the physician as Yao Firmpaw, a name still associated with health and wellness in the Valley of Four Winds because of his spectacular career. Yao never married; legend has it because his heart was forever broken.



Pearl of Yu'lon





Standard of Nuzao

- A spool of thick canvas that, when held aloft, unfurls to reveal a proud emblem of the Pandaren Empire. Heavy iron rings dangle from long ribbons of leather affixed along the bottom, pulling the banner taut. Stitched into each strip of leather is a reminder for the standard-bearer: "Fear seeks to diminish you, instead, let it reveal you."



Umbrella of Chi-Ji

- The delicate paper canopy of this tall bamboo umbrella has been miraculously preserved since its making some time during the lengthy Thunderpaw dynasty. The underside depicts a blanket of jet-black storm clouds, while a glorious crimson sun adorns the top. Inked in elegant calligraphy across the clouds is a short message: "Hope is the sun behind a stormy sky, ever in the heart, but veiled to the eye." Chi-Ji, the Red Crane, has stood as a symbol of hope for the Pandaren for centuries. His ornate and glorious temple is perched in a vicious jungle south of the Valley of the Four Winds.



Spear of Xuen

- Crafted during the Zandalari Troll Wars, this imposing spear is surprisingly lightweight and flexible. Its lacquered wooden shaft is gouged with deep scars, though the tip appears completely unscathed. Judging by the length of this weapon and its date of origin, you presume it was a mounted weapon intended for use from the back of a flying serpent. Scratched into the weathered handle is a note: "The only opponent is yourself." Xuen, the White Tiger, is legendary for his ferocity and prowess in battle. It is at his temple, high in the mountains of Kun Lai Summit, that hopeful warriors temper their strength with discipline.



Manacles of Rebellion

- Forged of iron and imbued with spells of subjugation and pain, these manacles with inward facing spikes were forced onto the slave races of the Mogu. While the spells have long since faded, their cruelty still sends chills down your spine.



Cracked Mogu Runestone

- Unlike "lesser races" that need schooling in the arts of magic, the ability was innate in the Mogu. From what is known about Mogu usage of magic, it is clear that their magic users did not fall into known categories, such as mage or warlock. Special emphasis was placed on flesh-shaping or spirit-capture magic. The strange residue of the magic that was imbued in this stone is difficult to understand by the modern races of Azeroth. Curiously, some of the markings around the rune resemble the Titan language.



Terracotta Arm

- When the Mogu had exhausted their options for enslaved mortal warriors, they turned their attention to creating armies of animated constructs to do their fighting for them. Because these terracotta warriors would sometimes sit dormant for centuries, it is hard to pinpoint exactly when this one was constructed or used. However, scoring at the base of the severed arm indicates that it was felled in combat.



Petrified Bone Whip

- This whip was fashined from the spine of some large and ancient creature. The blood of many Mogu slaves were shed by this instrument of pain.



Thunder King Insignia

- The symbol of a crown and crossed lightning bolts emblazon this jade emblem. It was a badge once worn by soldiers of the first Mogu emperor, Lei Shen.



Edicts of the Thunder King

- This code of laws, written in the unified language of the first empire, has been carefully chiseled onto the stone tablet. At the top of this list is the command that sedition, insurrection and rebellion be punished by public evisceration.



Iron Amulet

- This huge iron amulet weighs as much as a battle axe. Mogu warriors often wore ""jewelry"" such as this as a demonstration of strength.



Warlord's Branding Iron

- This branding iron emblazoned with the symbol of a minor Mogu warlord was used not on cattle, but on enslaved humanoids.



Mogu Coin

- This currency was used during the reign of mogu emperor Wai, who is depicted in all his snarling glory. The reverse of the coin depicts the changing of Mogu dynasties, a bloody process wherein the previous regime must be overpowered and executed. In many ways, ancient Mogu government was a meritocracy, based on brutal strength and terrible cunning.



Worn Monument Ledger

- Even with powerful magic at their disposal, the Mogu often preferred to use slaves to build their massive monuments. This ledger documents the cost, in slaves, during the construction of one such monument.



Quilen Statuette

- This statuette, carved during the brief reign of Mogu emperor Kang, was part of an experiment to bind Quilen servants in small stones. This experiment was abandoned as the Quilen thus bound were greatly diminished in power and thus deemed unworthy.



Anatomical Dummy

- An anatomical dummy of a Pandaren. It was used to document torture techniques.





Bien évidemment ces éléments étant issus de l'extraction des données de la version bêta du jeu, ils ne seront pas représentatifs du travail final de Blizzard, ni du contexte dans lequel il s'insérera.



---

Jeudi 22 mars 2012

Les premières infos extraites du jeu permettent d'en apprendre plus sur les métiers, voici les premiers éléments dataminés trouvés par le site

Wowhead

dont vous trouverez sur cette page une adaptation de son article paru ce 22 mars.

Nouveaux fragments

Pandaren Oracle Bone
Mogu Statue Piece

Nouveaux artefacts

Anatomical Dummy
Apothecary Tins of Yao Firmpaw
Carved Bronze Mirror
Chang Ki Board and Pieces
Cracked Mogu Runestone
Edicts of the Thunder King
Empty Keg of Brewfather Xin Wo Yin
Gold-Inlaid Porcelain Funerary Figurine
Iron Amulet
Manacles of Rebellion
Mogu Coin
Pearl of Yu'lon (the Jade Serpent)
Petrified Bone Whip
Quilen Statuette
Spear of Xuen (the White Tiger)
Standard of Nuzao (the Black Ox)
Terracotta Arm
Thunder King Insignia
Twin Steins of Brewfather Quan Tou Kuo
Umbrella of Chi-Ji (the Red Crane)
Walking Cane of Brewfather Ren Yun
Warlord's Branding Iron
Worn Monument Ledger



---

Jeudi 5 avril 2012 Si vous trouviez (à raison) que l'archéologie a été particulièrement délaissée à Cataclysm, les choses devraient s'améliorer un peu à Mists of Pandaria puisque des quêtes journalières spécifiques seront disponibles. Cela devrait rendre la montée en niveau de ce métier un peu moins pénible, et cela sera peut-être aussi l'occasion de gagner quelques fragments ou des reliques bien utiles.



Citation:

Thyvene

sur Quêtes journalière d'Archéologie à Mists of Pandaria (Source)




Notez que pour la prochaine extension, des quêtes journalières pour l'archéologie seront introduites en jeu. Celles-ci devraient fonctionner comme les quêtes journalières des autres professions (sans minimum de compétence requis), et une quête parmi 3 ou 5 quêtes différentes vous sera proposée chaque jour de manière aléatoire.



---

Mardi 8 novembre 2011 Pour Mists of Pandaria, les métiers seront évidemment mis à jour, y compris l'archéologie qui devrait recevoir de nouveaux artefacts, dédiés aux Pandarens cette fois. Ces additions seront le seul changement à attendre semble-t-il puisque le fonctionnement du métier ne sera pas revu par Blizzard :



Citation:

Thyvene

sur Archeologie à MoP (Source)




Du nouveau arrivera avec la prochaine extension pour les archéologues en herbe ! Les développeurs prévoient d'ajouter de nouvelles races et donc de nouveaux artéfacts. Néanmoins, il n'est pas prévu de revoir la manière donc fonctionne ce métier secondaire.